Cobham Inmarsat GX 5075 Mobile Satellite Internet Fly Away VSAT

Features
Easy to set up and use
4-Piece Carbon Reflector
0.75 m Axis-Symmetric Reflector
IPX5-compliant Baseband Packaging
WLAN Access Point and LAN interface
LCD Display and Web-Based User Interface
2 Case Solution, Airline Checkable
Description
GLOBAL SATELLITE INTERNET COVERAGE / UNLIMITED SATELLITE INTERNET BANDWIDTH
Satellite Phone Store proudly offers the most advanced high speed portable satellite internet terminal with one touch comissioning and unlimited bandwidth. The Cobham Inmarsat GX5075 takes only 10 minutes to set up and when powered on it automatically connects to an Inmarsat Global Xpress (GX) satellite to establish an internet connection with speeds up to 4mbps download/upload. The portable satellite internet unit comes as a quick assembly package well fitted in 2 luggage-sized pelican boxes for easy handling and transportation. Easily operated by a single person the Cobham GX5075 Fly-Away system can be transported via any airline as personal luggage.
The terminal is configured for commercial band operations and includes a fully integrated iDirect Core Module. A simple and user friendly design allows operators with little satellite experience to access GX services within minutes.
WEATHER RESISTANT
GX 5075 operates in all weather conditions with high wind, rain and temperature resistance. Rain does not affect the system up to 100mm/hr and though thick clouds can have effects on internet speed. The legs of the mobile internet system are specially designed to be anchored with tent stakes and assure stability in wind speeds up to 45mph. The GX 5057 operates perfectly in temperature range between -25° to +55°C (-13° to +131°F) but it can survive a temperature range of -40° to +80°C (-40° to +176°F).
GLOBAL INTERNET COVERAGE
Developed for the Inmarsat Global Xpress® Ka-band network, the GX5075 mobile satellite internet service spans across the whole globe. Deployed and activated in any continental region, North America, South America, Africa, Europe, Asia, Australia (Artic and Antarctic excluded) the GX system will connect to an Inmarsat satellite and establish a stable connection within minutes.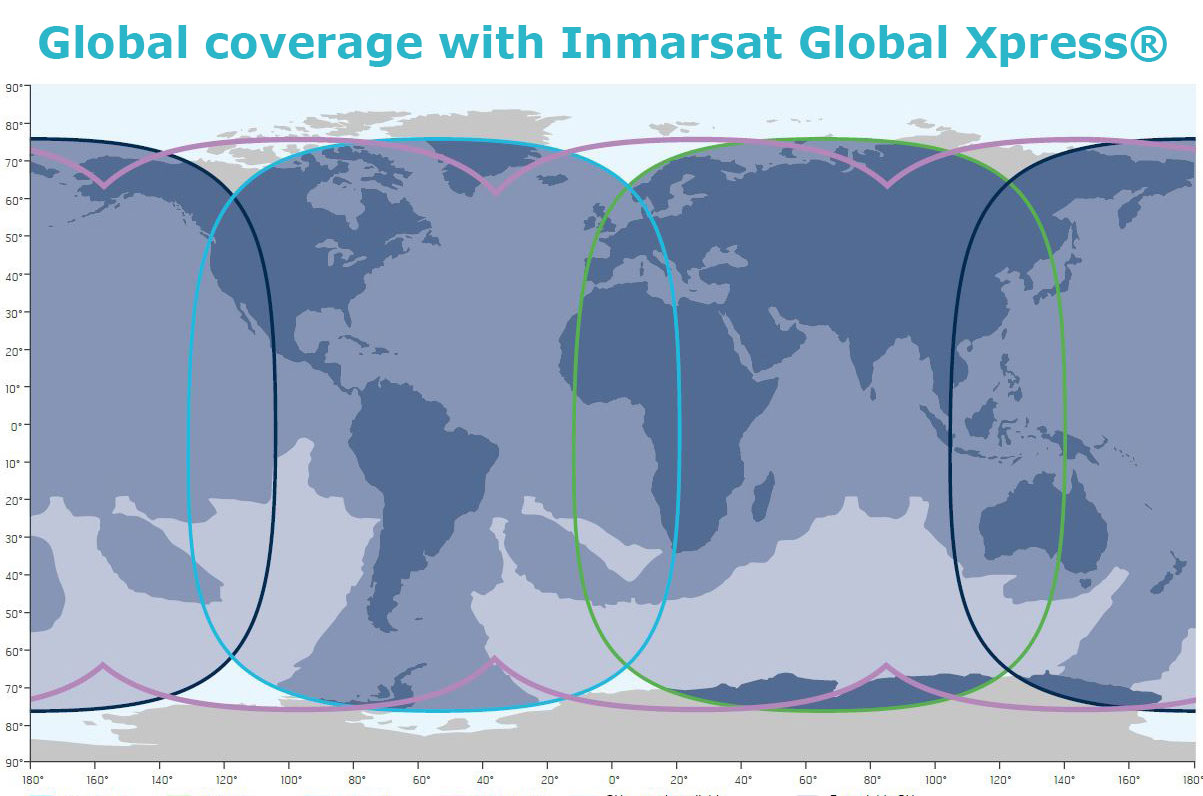 UNLIMITED APPLICATION
The GX 5075 running on the Inmarsat Satellite Internet network has unlimited applications where it can be used and what it can be used for. The ultra light portability and high speed network connection will cover all your needs for connectivity, streaming, uploading, downloading, surfing, and management. The rugged and stable design allows you to take the device to the most remote areas of the world and establish a well networked workstation.
UNLIMITED BANDWIDTH
Un-metered, unlimited satellite internet bandwidth connection is what makes this system the most desired among all other. No transfer limits apply and you will never have to worry about the size of the files you are working with or how much bandwidth you have left. Choose the plan that fits your needs and enjoy uninterrupted service, high speed and ultimate reliability.
BUILD FOR
Everyone that needs a high speed reliable internet connection in remote areas of the world. This mobile satellite internet service is highly demanded by Media agencies, Corporations, Construction companies, Survey companies, Research and Development, First responders, Fire stations, Police and Special Forces, Government agencies, Military, and other.
SYSTEM FEATURES

Easy to set up and use
4-Piece Carbon Reflector
0.75 m Axis-Symmetric Reflector
IPX5-compliant Baseband Packaging
WLAN Access Point and LAN interface
LCD Display and Web-Based User Interface
2 Case Solution, Airline Check-able

OPERATION FEATURES

Voice
Radio
Data
Fax
Live streaming/broadcast

DIVERSE USER BASE

Defense
Homeland Security
Law Enforcement
Emergency Response
Media
Telemedicine
Insurance
Remote office
Energy and Mining
The EXPLORER 5075GX antenna system is packaged into two transit cases.
Case 1 - RF assembly and reflector
Case 2 - Electronics enclosure and antenna positioner
1. Antenna positioner and electronics enclosure
2. Feed assembly
3. Red (Tx) & Blue (Rx) RF cables
4. Gray BUC Power cable
5. AC Power adaptor
6. Hand crank
7. CD with user documentation
***Take care when handling the feed assembly. Do not grab the assembly by the feed horn. The feed's sub-reflector can be easily damaged.
---
Technical Specifications
Dimensions
Reflector : 0.75m
Packaging (2 cases) : Airline checkable
Base Unit Case (L/W/D) : 63.2 / 60.2 / 33.3 cm (24.9 / 23.7 / 13.1 inches)
Reflector + feed case (L/W/D) : 63.2 / 60.2 / 33.3 cm (24.9 / 23.7 / 13.1 inches)
Weight
Terminal : 26.7 kg (59 lbs)
Base Unit Case : 30 kg (66.1 lbs)
Reflector + feed case : 20.4 kg (45 lbs)
Durability
IPX5-compliant Baseband Packaging
Data Network
Speeds up to 8Mbps down and 4 Mbps up
Interfaces
Ethernet & WIFI
User Interface : Embedded web server for configuration, control and management using external PC.