Kymeta™ Satellite Terminal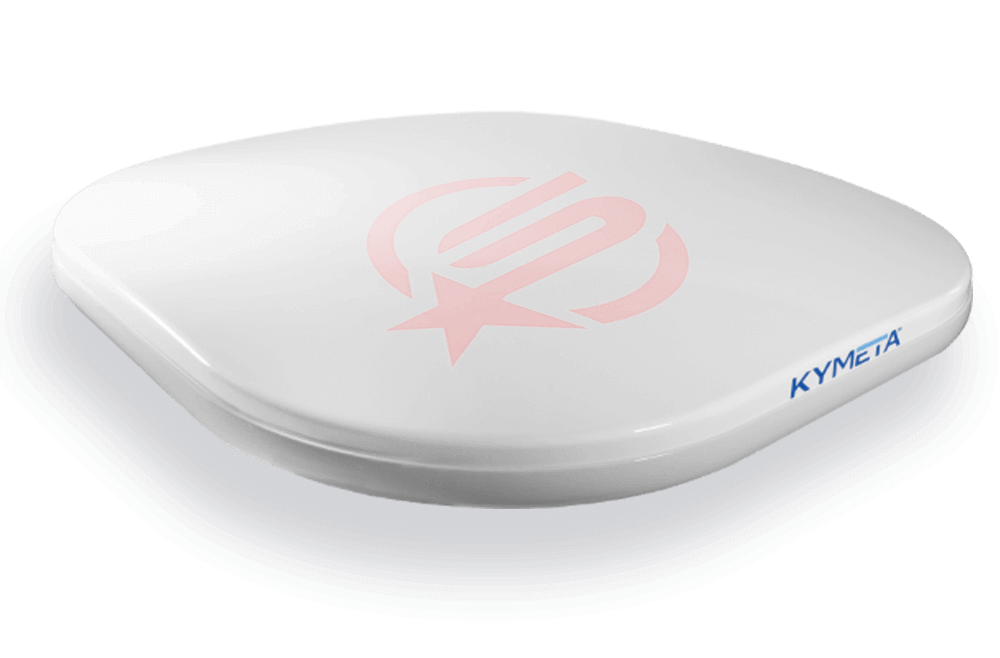 Revolutionary innovation brings the future of communication. Kymeta Ku-band satellite terminals are lightweight, slim, and high-throughput, with no mechanical components required to steer towards a satellite.

High Speed Data
Kymeta provides up to 5/2 Mbps high speed data rate. Kymeta is currently offering incredible data rates and low cost.

Low Power Consumption
Kymeta consumes only a fraction of the typical energy pointed antennas consume. Will not disturb passengers on the sundeck or anyone near it.

Static & Omnidirectional
No pointing, no moving parts. Kymeta acquires signal from any angle. Eliminates risk of fatigue and failure from mechanical breakdown.
The Most Amazing Thing Is Here
Welcome to the future of high-throughput communication systems that do not require mechanical components to steer toward a satellite and make connecting nearly any vehicle, vessel, or fixed platform easy. Enjoy high speed satellite Internet data on marine vessels, trucks, trains, planes and anywhere you can install this small low profile antenna.
Kymeta U7 16W Antenna Mounting Solutions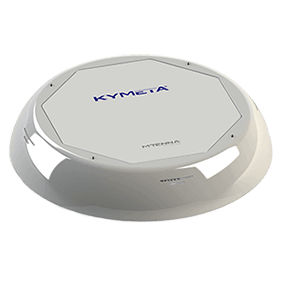 Horizontal Housing Mounts
Single panels can be mounted on the deck via our especially commissioned, discrete white acrylic housing mounts and skirts available in two designs.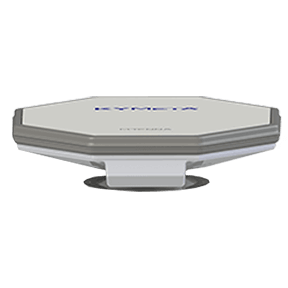 Surface Mounted
Single panels can be mounted via the surface mounting to provide the correct elevation.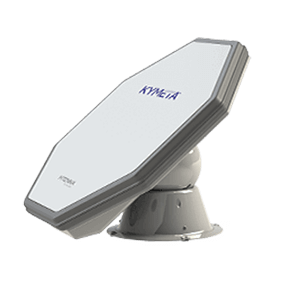 Flush Mounted
Panels can be flush mounted into a custom recess that provides the correct elevation. This can be covered with a vinyl wrap or painted with an RF transparent smoothly applied paint.
Kymeta U7 16W Antenna Mounting Solutions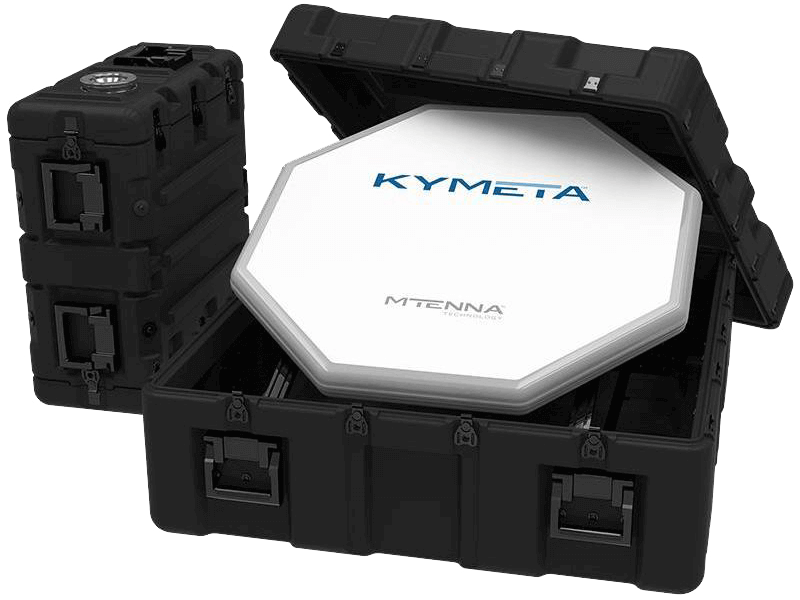 Transmit and receive data while on the move
Speeds up to 5/2 Mbps down and 1 Mbps up
Live streaming and Wi-fi integration
Seamless and low-profile installation options
Low cost service plans
Revolutionary Meta-materials based holographic beam forming and tracking
No moving parts
Weight 29.27 kg (64.5 lb)
Dimensions: (ODU) 32.4 in. x 32.4 in. x 6.4 in
Enhanced Performance For A Variety Of Applications

Kymeta's satellite internet system offers simplep ower-on startup and auto-acquisition for easy operation with broad applicability–for vessels and vehicles even at high speeds and on rough seas or terrain.

The technology works with the very latest geostationary satellites (GEO) and is also designed to work effectively with Low Earth Orbit (LEO) constellations.

The mTenna SELECT switches ODUs to transmit data from the most optimally positioned unit, switching as the vessel or vehicle turns or changes direction.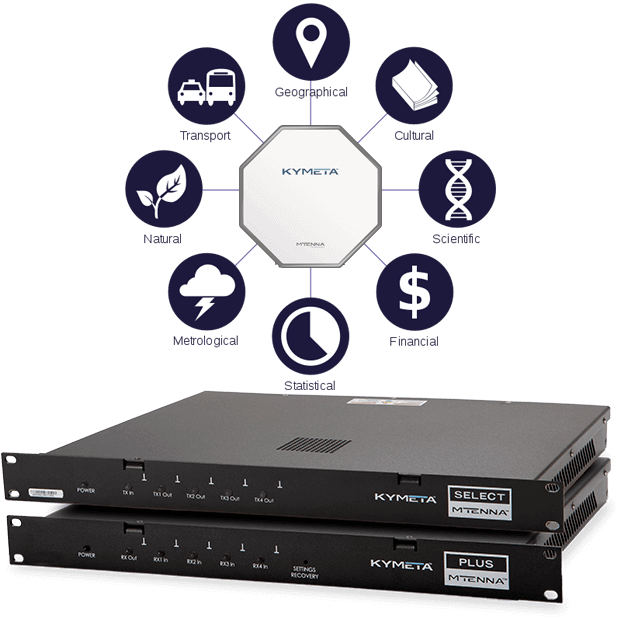 Kymeta Showcase
Kymeta Satellite Flat Panel Antenna
NEW Kymeta U8 Flyaway
New Kymeta u8 Ku band VSAT satellite system
Kymeta Satellite Antenna
Showcase of the Kymeta technology
New Kymeta™ U8 Satellite Terminal

The new Kymeta™ u8 antenna is ready for integrators to create custom mobile satellite terminals to meet their customers unique needs for connectivity while in motion.

Leveraging Kymeta's revolutionary software-defined, electronic beam steering technology, the u8 antenna has been re-engineered for full coverage of the Ku band, increased antenna performance, and extended environmental coverage.


Kymeta Satellite Service Data Plans
How Many Megabytes Do I Need?
| | | | | | | | | |
| --- | --- | --- | --- | --- | --- | --- | --- | --- |
| | 20 MB | 100 MB | 250 MB | 500 MB | 1000 MB | 5000 MB | 10000 MB | 30000 MB |
| E-mails | 1,300 E-mails | 6,600 E-mails | 16,600 E-mails | 33,200 E-mails | 65,000 E-mails | 325,000 E-mails | 650,000 E-mails | 1,950,000 E-mails |
| Browse web | 7 Pages | 35 Pages | 83 Pages | 166 Pages | 350 Pages | 1,750 Pages | 3,500 Pages | 10,500 Pages |
| Social Media | 20 Posts | 100 Posts | 250 Posts | 500 Posts | 1,000 Posts | 5,000 Posts | 10,000 Posts | 30,000 Posts |
| Skype Videos | 20 Minutes | 100 Minutes | 250 Minutes | 500 Minutes | 16,6 Hours | 83 Hours | 166 Hours | 500 Hours |
| Youtube 450p | 4 Minutes | 20 Minutes | 50 Minutes | 100 Minutes | 3,5 Hours | 17,5 Hours | 35 Hours | 105 Hours |
| HD Images | 6 Photos | 33 Photos | 83 Photos | 166 Photos | 350 Photos | 1,750 Photos | 3,500 Photos | 10,500 Photos |
| Wi-fi Calls | 1 Hour | 6,6 Hours | 16 Hours | 32 Hours | 70 Hours | 350 Hours | 700 Hours | 2,100 Hours |
Kymeta for your Business
Choose the best version with Service plan:
10 GB - 3 Month Promo Package - Velocity - 4x1 - Kymeta

$650.00 / mo

Kymeta Broadband, DEMO, 3 MO, 5x2 SAT, 20 GB

$999.00 / mo

Kymeta Broadband, Demo, 3 MO, SAT 5x2, 20 GB

$1,100.00 / mo

5 GB Monthly Service Package - Evolution - 4x1 - Kymeta

$429.00 / mo

Kymeta Flexmove 5x2 Velocity Satellite Service, 1 GB

$499.00 / mo

Kymeta Broadband, SAT 5x2, Global, 5 GB

$345.00 / mo

Kymeta Flexmove 5x2 Velocity Satellite Service, 5 GB

$1,519.00 / mo

10 GB Monthly Service Package - Evolution - 4x1 - Kymeta

$829.00 / mo

Kymeta Broadband, SAT 5x2, Global, 10 GB

$685.00 / mo

20 GB Monthly Service Package - Evolution - 4x1 - Kymeta

$1,499.00 / mo

Kymeta Flexmove 5x2 Velocity Satellite Service, 10 GB

$2,379.00 / mo

Kymeta Broadband, SAT 5x2, Global, 20 GB

$1,335.00 / mo

Kymeta Flexmove 5x2 Velocity Satellite Service, 25 GB

$4,229.00 / mo

40 GB Monthly Service Package - Evolution - 4x1 - Kymeta

$2,829.00 / mo

Kymeta Broadband, SAT 5x2, Global, 40 GB

$2,665.00 / mo

Kymeta Flexmove 5x2 Velocity Satellite Service, 50 GB

$6,339.00 / mo

80 GB Monthly Service Package - Evolution - 4x1 - Kymeta

$4,659.00 / mo

Kymeta Flexmove 5x2 Velocity Satellite Service, 100 GB

$10,119.00 / mo

Kymeta Broadband, SAT 5x2, Global, 80 GB

$5,335.00 / mo

Kymeta Flexmove 5x2 Velocity Satellite Service, Public IP Address

$89.00 / mo
Kymeta KYWAY U7 16W with iDirect Modem (limited quantities)

$18,995.00

Kymeta KYWAY U7 16W TERMINAL WITHOUT MODEM

$36,500.00

Kymeta KYWAY U7 8W with iDirect Modem (limited quantities)

$17,995.00

Kymeta KYWAY U7 8W TERMINAL WITHOUT MODEM

$33,500.00

Kymeta KyWay™ Go

$45,995.00
Contact
Satellite Phone Store