Satellite Phones
Satellite Phone Complete Buyers Guide, Reviews & Comparison
Welcome to our satellite phone buyers guide where we compare and review the best satellite phones of 2019. Satellite phone store sells, rents and supports top satellite phones, service plans and a variety of satellite solutions. On this page we help you learn everything you need to know about satellite phones and how to make the best purchase decision which device and plan is best for your needs. Keep reading to find out more about the satellite networks, devices and best satellite phone service plans available.
Why do you need a satellite phone?
GLOBAL CONNECTIVITY
Satellite phones also known as sat phones work globally from pole to pole in every remote region of the world. With satellite phones you can keep in touch with loved ones, do business and stay connected with extensive coverage on all continents and excellent voice quality.
MOBILE & RELIABLE
Small and lightweight. Satellite phones are more durable, shock resistant, water resistant, easy to carry and reliable. The extended battery life provides comfort and security that when needed your satellite phone will work.

SAFE & SECURE
Fully encrypted satellite phones are safe and secure for private use of any kind. Government agencies and private industries rely on this privacy. It is recommended to always have a satellite phone when leaving cellular coverage.
SIMPLE
Satellite phones use a simplified user interface for anyone to understand and navigate easily without confusion. Tactile and light up buttons offer excellent visual and physical feedback.
ADAPTABLE
Use the satellite phone on-foot, in your boat, in-vehicle or in-building with a multitude of available accessories that we carry. SOS and GPS features are available to you. See satellite phone accessories here.
FAST
Phones connect to satellite networks quickly regardless of location. Some sat phones may require up to 1 minute to find and lock on to a satellite in the sky. Antenna must always be extended when attempting to call.
What Our Customers Say
Features
The essential services - Satellite telephony, voicemail text and email messaging, GPS location data
The longest battery life - Up to 8 hours talk time and up to 160 hours standby time
The most robust handset - Operates at -20°C to +55°C; dust, splash and shock resistant (IP54). Humidity tolerance from 0 to 95 per cent
The only satellite phone to support Bluetooth - Place the handset on its side, with full maneuverability of the antenna, for easy hands free use
Easy to use - Intuitive cellular phone style interface - High-visibility color screen. Larger keypad for easy dialing with gloves on
Reliable network connection - Operates over global geostationary satellites that will be operational into the 2020s. Significantly less possibility of call dropping
The ultimate value - Highly competitive handset, accessories and airtime pricing
Package
Inmarsat IsatPhone 2 Satellite Phone Standard Package Includes:
IsatPhone 2 Handheld Satellite Phone
Battery
AC Wall Charger and International Adapters
DC Car Charger
Micro USB Cable
Wired Hands-Free Headset
Wrist Strap
Quick Start Guide
Warranty
USB Drive with support documents
Swivel Belt Holster
Description
The new IsatPhone 2 satellite phone is ultimately designed to work flawlessly in all weather conditions - in rain storms, dust storms, searing heat to sub-zero cold, tropical humidity or freezing fog the IsatPhone 2 will provide you with a excellent voice, SMS and GPS services and guaranteed reliability.

Impressively Inmarsat managed to a develop a battery for the IsatPhone 2 that outlasts any other satellite phone on the market. All the new features implemented in the IsatPhone 2 make it the most desirable satellite phone device at the most affordable price.

Clear voice calls is what the Inmarsat system of global communication satellites provides, and the new IsatPhone 2 satellite phone provides just that. Emergency responders, renowned journalists, military and government agencies have relied on Inmarsat for decades, making IsatPhone the number 1 choice for clear, reliable voice calling from anywhere on the globe.

With a 99.9% network availability, the IsatPhone 2 connects you to the Inmarsat network within seconds. Using the IsatPhone 2 to call any landline or mobile phone doesn't require training. Dialing is simple, set-up is quick, and your connections are reliable. And with the IsatPhone 2 you get a standard suite of call functions, including call history, caller ID, call waiting and call holding. There is also a speed dial function.

One of the key features of the new Inmarsat satellite phone is the Emergency Assistance Button upgrade on the IsatPhone 2. It's a quick and simple configuration when pressed, in case of an emergency, it will make a call to a pre-programmed recipient of your choice. Additionally, this feature can be configured to send an alert text message/email to one or more recipients on the list. This way your whole team can be alerted at once. The button is clearly marked on the handset itself and simple to use.

SatellitePhoneStore.com offers exclusive IsatPhone 2 service plans with attractive pricing packages and airtime options.
An absolute favorite for maritime users because of its long battery and water resistance!
Reliable Network
Operates over the Inmarsat global I-4 satellite network, ensuring reliable call stability and seamless roaming worldwide. 4 Geostationary satellites cover 90% of earths service to deliver connectivity in all weather conditions.
Stay Connected
Location services, including tracking and an assistance button, keep people updated with your GPS co-ordinates when it matters. Receive notification of inbound calls and messages, even with the antenna stowed. A well researched and complete holster design makes the IsatPhone 2 easily transportable and comfortably accessible within the reach of your palm.
Languages Supported
English; French; Japanese; Arabic; Chinese; Portuguese; Russian; Spanish
Features
This phone offers amazing voice clarity and has the longest-lasting battery in the game. The IsatPhone 2 is as durable as they come, holding up in 95% humidity environments and splash-resistant. To be clear, this phone isn't fully waterproof and it might not withstand a drop in deep water or prolonged water exposure, but it is a popular choice with land prepaid customers and security agencies—or anyone who appreciates good coverage, along with low-cost satellite airtime, equipment, and low monthly fees.
Ready - Fast network registration in under 45 seconds and un-rivalled battery life, with 8 hours of talk time and up to 160 hours of standby time.
Reliable - Operates over global geostationary satellites ensuring reliable call stability and network connection
Robust - Designed and engineered to withstand the most extreme conditions; operates at -20°c to +55°c (larger keypad for easy dialing when wearing gloves); dust, splash and shock resistant (IP65, IK04); humidity tolerance from 0 to 95%
Re-assuring - Location services, including tracking and assistance button, keep people updated of your GPS coordinates when it matters. Receive notification of inbound calls even with antenna stowed
Readable - Easy-to-use interface with large high-visibility, scratch-resistant transflective display that is readable even in bright sunlight
---
Watch Our Video Below To Learn More About The IsatPhone 2 Satellite Phone.

What's Included In The Rental Kit :

Waterproof shock-proof case / Quick guide sheet / USB charging cable / AC and DC charging adapters / IsatPhone 2 satellite phone.
***Additional charging options that you can add to your rental kit : Solar charger

---------------------------

Instructional Part Includes :

Turning on the satellite phone / How to make a call to a USA phone number / How to send a text message / Send a GPS location
---
Technical Specifications
Display
High visibility colour screen
Dimensions
Length : 170mm (6.7")
Width : 54mm (2.1")
Depth : 39mm (1.5")
Weight
249g (9.8oz) - including battery
Durability
Operating range : -20°C to +55°C (-4°F to +131°F)
Storage range : -20°C to +70°C (-4°F to +158°F)(with battery)
Charging range : 0°C to 45°C (32°F to 113°F)
Humidity tolerance : 0% to 95%
Included
Calendar
Alarm
Calculator
Minute minder - in-call alert
Microphone muting
Contact synchronisation
With MS Outlook 2007 (PC)
O/S compatibility: Windows XP Pro SP3 and Windows Vista SP1
Battery
Battery Type : Lithium-ion, 3.7 volts
Talk time : Up to 8 hours
Standby time : Up to 100 hours
Charging time : 3.5 hours
Data Network
2.4kbps voice codec
Speakerphone option
Voicemail
Speed dial 1
Supplementary voice services
Call history
Caller ID
Call waiting
Call divert
Call holding
Conferencing
Call barring
Speed dialling
Fixed number dialling
Text-to-text and text-to-email
160 Latin / ~74 non-Latin characters up to 10 concatenations
Standard and predictive text
Incoming email - 160 characters
Web message-to-IsatPhone Pro
Usage Control Features
Calendar
Alarm
Calculator
Minute minder - in-call alert
Microphone muting
Interfaces
Micro USB
Audio socket
Antenna port
Bluetooth 2.0
90%

of customers that

buy this product give

it a 4 or 5-Star rating.

Immarsat Satellite Phone

August 29, 2019 by Carleton E. (Florida, United States)

Verified Buyer

"Great buy"

Fantastic product, fanstastic service

June 14, 2019 by Charles P. (Virgin Islands (British))

Verified Buyer

"Great buy"

Inmarsat IsatPhone 2 Satellite Phone

June 10, 2019 by Anthony (North Carolina, United States)

Verified Buyer

"Great deal"

As expected!

May 13, 2019 by Foreigner (Hungary)

Works perfect

April 9, 2019 by Dave
---
---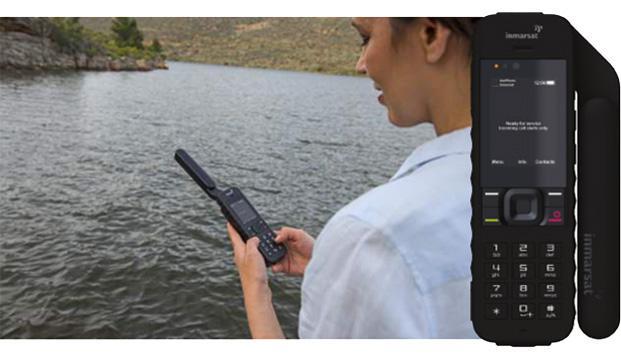 Inmarsat IsatPhone 2 Satellite Phone
IsatPhone 2 is Inmarsat's flagship satellite phone and it offers excellent voice clarity with the longest-lasting battery on the market. The solid built quality of this device is a result of excellent engineering and craftsmanship. Most popular for boating, yachting and sailing - out on the water this phone almost never drops a call. IsatPhone 2 is splash-resistant and not entirely waterproof, but it will withstand rain and high humidity for long periods of time. Inmarsat offers low-cost satellite airtime and flexible monthly plans.
---
Iridium Extreme 9575 Satellite Phone Kit
Iridium 9575 Extreme is the latest phone in the Iridium catalog. It offers satisfying voice clarity, a very high grade of durability and it is truly reliable when needed; in particular, high-stress environments where GPS tracking is vital and an emergency SOS button might be necessary. 9575 Extreme PTT is the Push To Talk version of this device and it's commonly used among groups and teams looking to communicate real time via satellite.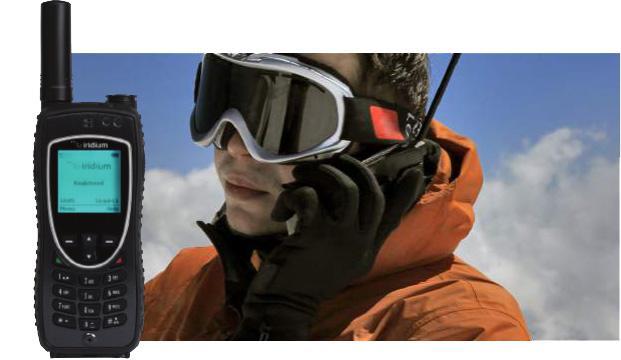 ---
Satellite Phone Frequently Asked Questions
Why Use Satellite Phones?
Because cellphone towers have a limited reach cellular networks offer coverage only in densely populated areas. Once you leave these areas, besides satellite networks, there is no other network offering reliable communication. For this reason, we have satellite phones that work anywhere in the world. They offer reliable Voice, Text, GPS, and SOS and do an excellent job keeping you connected anywhere at sea, on expeditions, long hikes, remote job sites, mountains, deserts and anywhere humans have stepped foot on.
Should I rent or buy a satellite phone?
If you need a satellite phone for more than 1 month of the year or multiple times a year it is recommended to buy a satellite phone instead. If you only need a satellite phone for one or two weeks at a time, renting one would be a better option.
How fast can I get a satellite phone?
We can deliver a satellite phone to you as fast as the next day if major shipping companies offer that service to your area. In critical and emergency situations we can often deliver the device to you the same day via courier.
What is Rollover minutes?
Rollover is an option to roll the unused minutes from this month to the next one and accumulate your unused airtime for later use. This option costs $10 per month.
What is a USA phone number?
Satellite phones use international phone numbers and most cellphone users don't have international calling activated with their carrier. A USA phone number redirect the calls to your satellite phone and allows anyone to reach you free of cost for them, but it will burn minutes from your plan. This option is available only on monthly service plans and costs $10 per month.
What is coverage like in south pacific (aus, nz, fiji, somoa, tonga, and south america, galapogous is. etc.)?
Satellite phones offer excellent coverage in all of these areas and you will experience uninterrupted service.
Can satellite phones send and receive text messages?
Yes, satellite phones work great with SMS services and you are able to send and receive text messages. Additionally satellite phone providers have dedicated pages where anyone can use their service to send free SMS to your satellite phone.
What is the cost for calling internationally?
Satellite phones are not subject to roaming costs. You are able to make calls anywhere in the world to any cellular or landline at the same flat rate cost.
Do satellite phones work in the ocean?
Yes, both Inmarsat and Iridium satellite phones offer excellent coverage in the ocean.
What is the lowest cost I can pay for a satellite phone and a plan?
We recommend buying the Inmarsat IsatPhone 2 at a special price of $395 with a 50 minute monthly plan of $49.95 per month
Will I get charged for incoming calls and text?
No, incoming calls and text are FREE on any service plan you choose.
Can I get internet on a satellite phone?
Satellite phones do not provide sufficient data connection to use internet services on your device. For internet use we recommend satellite internet devices like BGAN explorer 510 or IsatHub Isavi.
Can satellite phones be used indoors?
Satellite phones need a clear line of the sky out in the open to work. There are however satellite phone accessories such as antennas and docking stations that allow your satellite phone to work indoors.
Can my satellite phone be traced and spied on?
It is very hard to trace and spy on a satellite phone. Eavesdropping on a satellite phone is virtually impossible since the signal travels vertically towards the sky - compared to cellphones where the signal travels horizontally towards the cellphone towers and through this transmission it can be intercepted and decrypted.
How does SOS emergency feature work?
When the SOS button is pressed a preconfigured notification sequence is activated and GEOS 911 services are contacted and your GPS coordinates are sent out. GEOS will attempt to call you immediately to coordinate a rescue mission to your location. Additionally if preconfigured your family members will be notified about your situation.