Cobham AVIATOR UAV 200 - 200Kbps
Features:
Enhanced aircraft control
Constant health monitoring
Live photo streaming
Description
The world's smallest, lightest Inmarsat UAV satcom solution
Enhanced aircraft control
With AVIATOR UAV 200, operators can now send flight commands to the UAV in real time. By making immediate route adjustments as and when necessary, not only does this significantly enhance mission flexibility but it can help to protect the UAV and other airspace users should it need to avoid potential threats or return to base.
Improved situational awareness
LOS to BLOS
Near real-time route adjustments
Improved airspace integration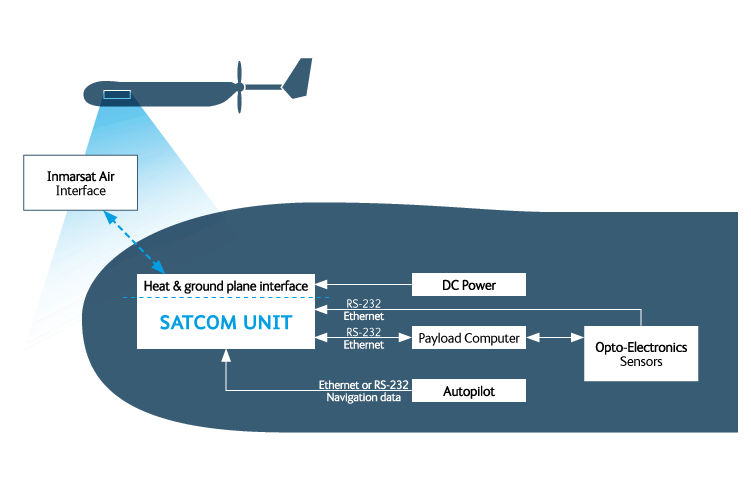 Constant health monitoring
Tactical UAVs are designed to be as durable as possible; however, they are often used in stressful environments where there is risk of damage or system faults.
AVIATOR UAV 200 enables the UAV to send extensive health data in near-real time, allowing operators to have a constant overview of on-board systems and structural integrity. Should any problems be detected, the operator can immediately reroute the UAV back to base for repairs or abort a mission with less risk of collateral damage.
Real-time health monitoring
Full flight control
Real-time mission relevance
Emergency risk reduction
Live photo streaming
For true "eye in the sky" surveillance and monitoring, it is vital that operators get near real-time visual feedback representing the HD video captured. Previously, tactical UAVs had limited connectivity, meaning that all viewing and decision-making that was based on BLOS situational data, had to be within the limited range of LOS flight or after airframe return. By this time, data will often have lost its tactical or commercial value.
Features
Improved situational awareness
Real-time health monitoring
View near real-time imagery
Dynamic aircraft re-routing
Add crypto for a secure airframe
Reduce operational costs
Technical Specifications
Durability
Single box solution
Mid-flange for ground plane and heat management
Included
Single Line Replaceable Unit solution
Weight and size-optimised for small tactical UAVs
Mounted within the airframe
Inmarsat Class 4 SwiftBroadband
Full Inmarsat hemisphere coverage to 5° elevation
Background data service up to 200 kbps
Streaming class services up to 32 kbps
User class context control
System BITE
Interfaces
User Interfaces : 2 x Ethernet; 2 x RS-232
Interfaces to Aircraft : DC Power (14 - 28 VDC) ; Nav in via RS-232 or Ethernet
Micro-D connector interface