Nov 7, 2022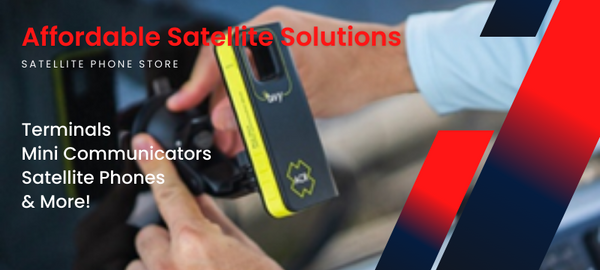 Satellite communications terminals are widely seen as expensive, big, and difficult to operate. While this is true in some circumstances, there are very affordable solutions available. Satellite phones and personal texting/email/tracking solutions are among the most affordable systems available. Let's have a look at what's accessible in the US market.
Satellite Phones
In the aftermath of a disaster such as a hurricane, voice communication is the essential need and a natural way to communicate. Voice is the easiest way to connect efficiently in any emergency and satellite phones are the best solution for this. These devices integrate voice telephony and, depending on the brand, push-to-talk, texting, gps, emergency beacons and low speed data. Some devices such as the IridiumGO! can connect to a smartphone to offer enhanced services such as basic email and weather files. For professional users, satphones and satellite radios can be integrated in emergency vehicles, interconnect with radio networks to offer over-the-horizon radio communication. Satellite phones are the primary emergency tool any emergency conscious person or organization must have at their immediate disposal.
In the USA, two satellite networks offer satphones. Iridium and Inmarsat. Iridium Satellite phones rely on a constantly moving low earth orbit network of 66 satellite. This means that a phone will always at some point in time have a direct line of sight with a satellite. Inmarsat phones rely on geo synchronous satellite who stay in a fixed location in the sky relative to earth. The risk is that an obstacle might block the phone from "seeing" a satellite and prevent communication. The two most popular models are the rugged Iridium 9575 and the Inmarsat iSatPhone 2. Both offer excellent voice services, SMS and GPS functions. Iridium also includes Push-to-talk services and a dedicated ICOM IC-SAT100 PTT Iridium Satellite Radio.
Mini Satellite Communicators
Satellite Phones are generally affordable but can cost over $1500 and a yearly plan is required to keep them operational. So, what are the alternatives for budget conscious persons? Small, compact, and extremely portable satellite transmitters that fit in your pocket and leverage your smartphone capabilities are the solution. They are priced around $250 and offer a series of services. Handheld short-burst-data - SBD – (meaning: small amounts of data are being transmitted) devices like the Zoleo Satellite Communicator, Spot X and Spot Gen 4 by Globalstar, Garmin InReach and the most recent ACR Bivy provide some of the following services: email, SMS, GPS, and weather information, and operate as emergency beacons for safety.
Let's focus on the most recent addition to the family, the Bivy Stick. Bivy is a two-way communicator with GPS that is leveraging the Iridium satellite network and can therefore operate worldwide, including at the North and South poles. This tiny device is adapted for both professional and recreational usage.
With global satellite coverage provided by the Iridium satellite network, you may communicate using the Bivy Stick from everywhere there is a view of the sky. Despite its small size (3.5 oz or 100g), the Bivy Stick has a robust feature set that includes two-way text messaging, SOS, location sharing, one-touch check-in, and extensive weather updates delivered directly to your cell phone via satellite. Furthermore, this small system gives users a dedicated phone number and email address.
The Bivy Stick's value is further boosted by crucial accessories such as the wide range of accessible mounting choices. The numerous mounts offered allow users to connect the Bivy Stick to any vehicle, bag, or building, making it a perfect item for travelers who are transitioning from one activity to another.
The Bivy app (on iOS and Android) contains over 50,000 adventures. The App is a versatile tool that can facilitate all of your adventure needs. You may also keep track of all your experiences with the Bivy App. Keep track of your speed, mileage, altitude, and more. In addition, you will have access to detailed offline maps across the world. Even if you don't have cellular coverage, you'll always know where you are.
Off the grid features
These light and portable satellite communicators are wonderful companions; however, they can be made even more useful by adding third party applications. The IridiumGO! and the Bivy both offer such third-party features.
The IridiumGO! system has a series of applications that enhance user experience. Applications are downloaded onto the smart phones that connects to the IridiumGO!. These third-party applications are usually available with a subscription. For example, PredictWind Offshore provides maritime information and weather, BYSKY offers two way chatting, SAGA Explorer is a GRIB file providers, etc.
More specifically for the Bivy (but also workd with the iSatphone 2), another third party provider is Galileyo. This is an Information Distribution Platform that gathers unfiltered, crucial, and life-saving information and distributes it via global Satellite Networks (Iridium, Inmarsat) when connectivity to cellular networks or internet access fails or is unavailable. Galileyo distributes two sorts of information and allow users to send private information to other Galileyo members.
The first category of information, known as Information Feeds, is content gathered by Galileyo from a variety of credible sources, such as essential business information, financial information, and life-s
More Satellite Resources